So for over a week Safari wouldn't recognize the web address for me to update my blog here. Whatever. It's working now, and so far this is my only bad experience as a Mac owner. I'll take it.
I got bitten by a tick this past week; we bought an inflatable pool that's supposed to be 15x3 ft, but currently due to a sloping yard is only maybe 13x2 ft. Being rednecks in training, in order to keep the pool upright we wedged the lawn mower handle under one side to keep the water in.
OH!!!!! We have DVR now. This is VERY exciting. I actually got to see most of LOST yesterday evening. Until the Diva started shrieking. We'll finish the episode tonight.
What else?
Let's see, I went shopping last weekend with Xris and her cousin Taylor. For makeup. I have no money. I was manic. So I spent Xris's money for her. Let me tell you, for a manic depressive, spending someone else's money is just as good, and in a way I'll get to enjoy the fruit of the shopping spree because I'll get to watch Xris enjoying it. That's a perk. I had a BLAST chucking stuff at her to buy, but alas I couldn't talk her into the $90 Steve Madden Richh pumps just yet. I did spend time froogling them yesterday and found them on sale from $75-$80 in various online locations, and I think she needs them. Yesterday even. I mean, LOOK at them!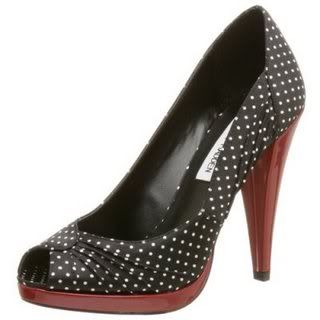 How hot are those???? EVERY woman needs a hot pair of peeptoe pumps.