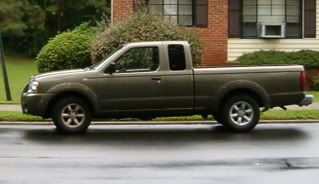 That's Haldir. yes, I named my truck after a dead Elf.
Haldir died yesterday. Haldir has been the best and most favorite vehicle of my adult life. He's fun to drive, and I can actually use the bed to haul things. That's been great fun. I once hauled 3 large tanks of rats from one end of town to the other when I was moving in here with Rich.
Yesterday while I was driving Livvie around on errands I started to lose control of the wheel. By that I mean that the entire truck attempted to get into the right lane repeatedly, when the safest thing to do was to stay in the left. I attempted to communicate this to Haldir by yanking back on the wheel and throwing all my weight into staying to the left.
When we reached the grocery store I smelled burning. I popped the hood and couldn't locate the source of the burning. While I was there I also checked the power steering and coolant levels and both are fine.
So there it is. My truck is no longer safe to drive, and I have no other vehicle.
Guess we'll stay inside and watch TV every day.